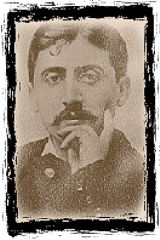 ---
This is an informal site dedicated to the writings of Marcel Proust that are mostly unavailable elsewhere in English translation.
I began this project in 1999 mainly for my own amusement but hopefully to be of interest to others with a similar fascination for this great writer. I have no qualifications as a translator and make no claims for absolute accuracy, they are simply my best efforts at conveying Proust's sometimes complex but always intriguing thoughts and language into English.
There is no such thing as a "Complete Works of Marcel Proust", it would be vast, and even in French his miscellaneous writings are dispersed across several different collections. And indeed there are even a handful of pieces that are not readily available in French. My aim is to bring this body of work together for the English reader.
It goes without saying that I am assuming some prior knowledge of Proust's life and work on the part of the reader and there are plenty of other websites and books that can be referred to for background information. But of course I would be delighted if my efforts were to arouse further interest for the casual browser.
I am always open to constructive criticism and suggestions for improvement.
Shortly before his death Proust said of Scott Moncrieff: "I value my work too much to allow an Englishman to demolish it." I fear the same accusation. But this is a labour of love not of scholarship and until more of these lesser known writings are made available in professional translation I offer up my sincere, if flawed, efforts in a spirit of admiration and respect.




Proust's Articles An attempt to list all of Proust's articles and miscellaneous writings and where to find them in French and English.
---

(Sketch by R. de Montesquiou)

Chris Taylor Mail Me