Letters to Reynaldo Hahn
9 boulevard Malesherbes
Wednesday [18? July 1894]

Dear Sir,
My last letter from Delafosse made me think that he would be coming back any day now, depriving me of my only excuse to invite you to meet up with me. - So if you really want to see me one afternoon very soon, at my house or at your house or on the terrace by the water at the Tuileries or wherever you want, I would be charmed to hear you telling me all about Delafosse's success in London. With my best wishes.
Marcel Proust.
---
[1894]

Dear Master
If you would like to come to Delafosse's come and pick me up before half past one. If you want to see Yeatman come at six o'clock. I have hardly any time free between the two - but what I would prefer would be for you to come after dinner or that I come to your house after dinner. Lavallé will be here at lunchtime (half past eleven).
Yours
Marcel Proust.
I can't tell you how much good those lines from Mademoiselle Suzette have done me and how much confidence in the future of our friendship they have given me.
---
[Trouville, September 1894]
[Beginning of letter missing]
[...] came back to Paris (in case you will not be coming to Trouville). I assure you that if Madame Straus were not here I would much prefer to come back to Paris this evening than to let you come to Trouville.
My tenderest sympathy about Mahénu.
Marcel.
Give my respects and affection to Madame Stern which you can extend according to the dosage you think is appropriate.
---
Monday morning [24 September 1894]
Hotel Roches Noires Trouville.

Dear "Master"
I don't think you would be foolish enough to come here for any other reason than Mme Straus and the sea, and if you were to come on my behalf, who you will be able to see in Paris, I would prefer it a thousand times that you don't come. But it is wrong of me to reply to you seriously about that and to see in it anything other than one of those kindnesses with which, like the little pony alas, you are lavish. - But on the other hand if you do come I understand very well that it will amuse you more to have somebody of your acquaintance and I would be very happy to be that somebody so I offer myself up to stay until Tuesday or Wednesday of next week if that makes your coming any easier. I am very grateful to you for having replied to me straight away. Since Mama left yesterday I had a bad time of it this morning all on my own because after a sleepless night I didn't want either to work or to go out for a walk as I had promised Mme Trousseau and your letter arriving half an hour ago was a sad distraction it is true but a very dear one. - Sad because before that I still had some hope
And yet such joy is full of rue
My Phyllis, if nothing follows after
Don't read the volume of Plato which can be of no interest to you but only the Symposium. I'm not saying you will read it very fruitfully, but at least in its full flower. The blooming of the others is internal and, even though I can't remember which ones are with the Symposium in that particular volume, a little austere for you. I have no one to talk about you to since Mama left - M. Deluze a little yesterday, but I see him so rarely - impossible to follow your advice about a letter to Delafosse. Every day I get through a huge heap of correspondence. But just imagine, I still haven't replied to Mme de Brantes, to Ferdinand de Montesquiou, to Segonzac, to Robert de Flers (who has written back to me in any case) etc. Along with yours came a letter from Mademoiselle Suzette in which she speaks affectionately about you.
"Hand" is not very harmonious and I no longer recall very clearly what it relates to. But I'm sure it's to something nice for which I send you a brotherly exchange.
M. P.
A word from Madame Stern is added to your letter. I don't think it would be respectful enough to reply to her in your letter and I am going to write to her. I begged you to thank M. Lavadé for being kind enough to have come out in an indirect way. If I don't write back to him through your intermediary, it's because there would be no end to it like Agnes's bows
for fear that he finds me less civil than him
(L'École des Femmes).
But I would be quite happy to make his acquaintance. Give my respects to the one of your lady sisters who is with you if I was introduced to her and to Madame Stern.
If you can write to me again or if that is too much of a nuisance for you a telegram that will re-enliven my solitude. After that don't write again. It's only my second day on my own. Dear friend I opened my letter up again to rescind it. I'm almost certain that the hotel closes on the 2nd of October.
---

[Tuesday 25 September 1894]
M. Reynaldo Hahn
Pavillion Louis XIV
Saint Germain en Laye Seine et Oise.
"My dear little one"
For the first time in my life my play-acting has not succeeded and that will teach me a lesson. Your telegram arrived after I had left and the Staus's sent it on without opening it. On top of that I'm sorry that it must have cost you, like it did me, 3 francs 20. Moral of the story: Turpe est mentiri - I've been in Paris for six hours - Thursday after tomorrow at Madame Stern's with you I hope. Excuse me for writing to you from an office on this hideous card.
Thank you for your kindness.
Your little

Marcel.
---

[12 October 1894]
Telegram
Monsieur Reynaldo Hahn
6, rue du Cirque.
Dear little Master
Your pony has in his misfortune ended at noon his military embarkations from where he had made "a thousand follies" and as he was already not very well you can imagine that the little extract of balm was barely enough... perfectly. Also he will not show himself to you, until Othello where he will meet you all atremble, after being assured that your handkerchief will not be sticking out of your pocket, like a naughty horn. Anyway he will go to Madame Lemaire's about quarter past or half past five. It's up to you (and if you're not there he could always go to the rue du Cirque about quarter past six).
M. de Montesquiou leaves on Sunday for his Rohan pharos. So Madame Stern will be fine. But don't invite any man who to be appreciated by everyone at dinner will necessitate the invitation of a jamain [?] "A Dreyfusard always finds a bigger Dreyfusard who admires him" as the wisdom of ponies says which I oppose superbly and reasonably to that of nations. Read the Barrès in the Figaro where there are three delightful phrases. You will see that the desire of the mule is the beginning of the love of the cliché.
---

[1894 or 1895]
Monsieur Reynaldo Hahn
6 rue Cirque
My good little Master
I haven't taken your medecine because the chemist's was closed and because my father concerned at seeing me so poorly, instead of going to bed at ten o'clock waited until half past midnight when I got back to examine me in bed. I slept for eight hours! If I still have stomach ache this morning it is because I dined without a drop to drink. At half past midnight Mama who had also waited up for me made me half a cup of orange leaf tea. There, that's everything your pony can say to reassure you and show you that unquestionably you have no call to send him to the veterinary surgeon. He has already caused you enough trouble without all that. I shall probably come at half past one, possibly even one o'clock. I am also quite anxious because I have pondered several contradictory things in l'Ile des rêves and in particular that I had a fainting fit on the way to Versailles because I heard that it was already in rehearsal. Risler told me yesterday evening that only you could have written something so exquisite and that it was quite different to Phryné. For that I find him more likeable than ever. I shake your little hand (by way of the thumb) "assuredly I am holding - the purest, the most worthy thing in the whole world - and neither the lily, nor the rose, of which Cypris prided herself..." We'll finish another time. I lift your hand up to my nose, my master, it is the only flower that truly makes quiver the passionate nostrils of your pony.
Marcel.
Translator's note. There is a tradition that the rose was born from the blood of Cypris. It is through these poetic flights that Shakespeare leaves far behind him etc.
---
[31 October 1894]
Monsieur Reynaldo Hahn
6 rue Cirque
My Master
To avoid any misunderstanding by chance I went to see Mme Ernesta just now and I found her.
Your little pony who loves you very much and will always be faithful to you.
Marcel.
---
[About December 1894]
Holding neither a sword, a lily, a dove,
In my hand whose trembling body warms and swells
Not worthy to hold your hand, because the lily is less pure
And the sword is less noble.
I fear this improvisation is not getting me very far and as I already have a very long walk to accomplish today, lunching at Neuilly, I'll stop at that. At least the second verse will be easy for you to imitate Mounet Sully. My dear little one, at one o'clock I'll be at 6 rue Borghèse at Neuilly, at five o'clock I don't know, if I am in the neighbourhood I will call at your house, not at mine, if not then this evening at half past seven. But in the afternoon and definitely till four o'clock I'll be at rue Borghèse. "Audi, et si vis, veni; gratissimus eris". I haven't the slightest wish to go to see the poet who loves me. On the other hand it would amuse me very much to be taken to see Madame Alphonse Daudet by my master. Besides the visiting card (that I don't happen to remember sending) couldn't signify anything other than that wish, that often politeness is often not solely feigned with me. - How can the lady from rue Cambon who is a "pleasant and capable person" see such boring people as those you mention? Society is all wrong. I'll leave you with that refreshingly new thought.
Your pony, excited to see you this evening among so many people indifferent to our friendship and some, I think, hostile.
Your own
Marcel.
I'm replying first at the end of the letter (handy for encouraging him as usual).
---
[18 December 1894]
Telegram
Monsieur Reynaldo Hahn
6 rue Cirque
Dear child
I'm definitely not going to Paul et Virginie. How can I see you? I'll gladly come to see you at about half past nine, either you will have had to accompany me at Madame Baignières' for half an hour, or I leave you at home - Or Cambon about eleven o'clock - In the end it will be up to you. I'm not dining at home but I'll be coming back to get dressed about nine o'clock and I'm counting on finding a word from you giving me a meeting place.
Your childish pony
Marcel.
---
[1895?]
My dear little one
I accept everything because it is to repay you, and this part of my interior life that I give to you - and even before giving it to you I owed you - if I can believe that it is worth anything, I rejoice twice over. I would like to be master of everything you can desire on earth so as to be able to bring it to you - author of everything you admire in art so as to be able to dedicate it to you. I am starting small! but in the long run if you give me encouragement... Because of what you tell me I think I could telegraph Madame Lemaire for lunch on Sunday. But doubtlessly she won't be able to. I'll quite probably come this morning but definitely at half past one.
Your
Marcel.
---
My friend
I haven't slept at all. I'll definitely come to see you straight after lunch to talk to you about that Christmas tree.
Marcel.
---
[5 February 1895]

Monsieur Reynaldo Hahn
6 rue Cirque
Dear Reynaldo
It's all got complicated and I don't know when I'll be able to see you. I might call by between four and seven but I can't be certain. In any case if Madame Lemaire has a box come and get me so we can go to the Français, if not I'll come and see you about nine o'clock.
Your
Marcel.
---
Quarter past nine [8 February 1895, or shortly after]
Monsieur Reynaldo Hahn
6 rue Cirque
Dear child
M. d'Humières has written to me that he will be coming to see me tomorrow at half past two so that we can go together to see the Heredias. As he always misses me and every time he's come from Versailles it's impossible for me to say no - especially as I'll be enchanted to see him. If you too would like to come and see the Heredias it would be nice if you could be here before half past two. If not do you want us to come up and say hello to you, he also wants us to go to the Polignacs but I've got M. Darlu at five o'clock. I expect that you won't come any way and that you are in the middle of listening to la Montaigne noire. Also I am going out a little bit. I'll be at home tomorrow morning.
Your little
Marcel Proust.
---
[1895]
As you need to leave at 2 o'clock would it be convenient for you my dear boy that if I don't come to you at two o'clock you call by here at about quarter past two and I'll accompany you on our walk as you think best.
See you soon.
Marcel.
If I haven't come at two and if you haven't come by half past two I won't concern myself about you any more ((except by coming back to see you at four o'clock, or coming to pick you up at ten past eight that much is certain)) so that you don't feel obliged to send me word nor stop your work at two o'clock if it's going well at that time.
Your little tower of Constancy which in old French means inalterable faithfulness.
Marcel.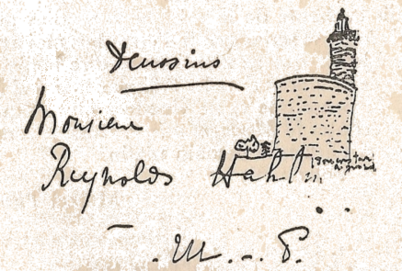 Drawrings
Monsieur Reynolds Hahlm.
Tower of Constancy. Sharp Dead.
M. P.
---
[27 March 1895]
Telegram card
Monsieur Reynaldo Hahn
6 rue Cirque
I've passed my exam dear Reynaldo. Unfortunately Bizaine and Yeatman haven't and I'm quite upset about that.
Your
Marcel.
---
Dear child
It's all back on again for Faubourg Saint-Honoré. - So I'll come about half past four. Last night I chatted for quite a long time with Fauré who really is very nice and Madame Sultzbach did not succeed in spoiling it for me by saying that she would give all of Beethoven for one piece by Fauré. We talked about you for a long time and I think I did so with some intelligence. He told me that all his music must really irritate you because the same verses needed to assume their definitive expression for you etc. And I said quite on the contrary even more often I had heard you singing his donneurs de sérénade rather than your own, that you sing the Chant d'automne so well. You are a little darling.
Your friend.
---
[1895?]
Dear child
If you can read le Dîner en ville in five minutes please read it and if so write a letter to Madame Lemaire about anything whatever and say purely and simply what you thought of it (I've just read le Dîner en ville which etc.). I've said everything else (at the top of the newspaper etc.). If you don't have the time leave le Dîner en ville. And write the same thing in confidence, or rather don't write anything at all. Finally that your note doesn't go with my concierge. That would be too obvious. Goodbye then till 5 o'clock at my house? Instead of that if you can at four o'clock wherever you like. Just let me know. And we can maybe go together to Madame Lemaire's which would be good (and at 6 o'clock I'm going to Mme Ernesta's).
Your little
Marcel.
---
[1895?]
You are an angel and I really wanted to come and say goodnight to you if you hadn't stopped me. A bit worried about not being able to read your letter. No I don't know why I said that because I'm not at all. I'll be with my concierge at ten o'clock sharp. But on the other hand if you wanted me to go to Andromaque I'd like that just as much. - As for tomorrow evening perhaps it would be best if I go and wait for you two doors down from Mme Hochon. In a taxi I shan't be cold. You could stay a bit longer - and more than anything the journey back with you would be longer. M. Meyer didn't find my article too long to "keep it in mind". But he still hasn't read it.
Your pony.
Marcel.
---
[1895?]
Your pony has just played le Cimetière de Campagne twice through (to practise for the Cirque). And to its rural charm are now added many more things - things difficult to put into words in the language of ponies and men... - The happy skill that still assuages "for one's whole life" and the "faint song of church bells", the symetrical infinity of the horizon to meadow and the sound of the bells, still undergo the internalization, the movement of things of the soul that is so often that of our musical imagination, these are the least of the discoveries I have made this evening... Here then are lots of useless things, from a stupid little creature who owes you nothing than his rough head to stroke, a sincere gaze, and the brilliant publicity of a confident brotherhood for whom no reciprocity is due - as is the case with one's obligations in the world of finance.
I had some good ideas even though a bit costly at Madame Lemaire's who is of a mind to have Réveillon printed on a bit of ribbon.
Marcel.
I'll be at your house at eleven o'clock tomorrow morning don't go out.
---
[About May 1895?]
Dear little Master,
I have just woken up - because I no longer ever wake up until quarter past ten - and I was most astonished to see that the little Master who has just woken up next to me has already had the time to send something from rue de Cirque. How has he done it. I'll only be at home this morning. Although I'll be back at six or quarter past six. And this evening I can very easily come and say hello to you. But ought we not, to train ourselves against future tempests, to sometimes leave a week or two weeks without seeing each other. - Yes eventually, but let's not start yet please.
Yesterday evening I saw Madame Straus (my little master comes first, but when I don't need to see him I profit by going to see a few friends). I asked her if the permission she gave me for bringing you to Trouville is valid for Paris. She will be charmed any day you like, before three o'clock, and when she has started up her Sunday evenings again on Sunday evening. I told her that you regretted not seeing Maurel in Charles VI. She thinks that "these human works will not be so pleasing if one is infatuated with legendary and mystical works" but in the end at that moment I think she would have gladly nominated you as director of the Opéra if she could. Critique de l'espérance was written in fifteen minutes and never corrected so despite my confidence in the little master's taste I can't believe it is well written. In any case morally it is false. But from the moment, even if it was only for a minute, I felt it to be true, that gives it a psychological truth to which (fortunately) nothing corresponds in real life.
I am your pony.
Marcel.
I love the little Rouet. These are the things that delight me. - You'll find me full of cold. I hope that you are well. Please excuse this infected pen.
---
[1895?]
My friend
In a great hurry going to the Bois I'll drop you off there. Mme Fould is back in Paris and I'm having my lunch at home. If you want to come after lunch it is up to you but the dream of your pony with this beautiful sunshine and in despair over a Versailles where he daren't sweep you off to, would be to take you to Mme Staus's for ten minutes and then at a fast trot to the ravishing studio of Jacques Blanche. To go there and back will be devine on this golden day.
Your
Marcel.
If you haven't sent me word I'll be going out around two o'clock.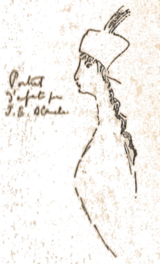 Portrait of a child, by J.-E. Blanche.
---
[May? 1895]
Forgive me: this letter was among mine that were brought to me in my bed, I didn't look at the envelope and opened it... Here it is enclosed. - It's possible, probable even, that I'll go out after dinner (about half past nine) to see you. No need to say if you're not there. I'm not dining at home and will be in every possible way delighted to make this bit of a trip which is my "road of hope" and always has been moreover: when every morning I went to avenue Marigny to look out for Mme de Chevigné I always took the rue La Ville l'Evêque, the place of all the carriages, the same road. - I was completely bored at Tannheuser [sic] up until the solo. And despite the admiring exclamations of the entire hall that pining prayer of Elizabeth's left me cold. But how lovely the ending is. I am decidedly not of your opinion about the phrase "legendary rather than human" it is all in the voice and the style of beauty of our friend. - The more legendary Wagner becomes, the more human I find him and the most splendid artifice of the imagination seems to me only the symbolic and striking language of moral truths.
---

Paris 28 May 95.
Monsieur Reynaldo Hahn
6 rue Cirque.
My little Reynaldo
You know that I can't call on you right now because of my exam but I can't wait till quarter past eight to beg you from the heart to not worry yourself over a visit that I couldn't prevent not being informed. You know everything I do, I gave you proof of that this very morning which ought to reassure you and had I known I should see this person just now you would have known too. I'm going to get myself in trouble for leaving the Mazarine to telegraph you, but I can't live, I am disconsolate, it kills me to think that you might be annoyed. Till quarter past eight then. I can go and write calmly because I am waiting for you to reply that you are calm.
Your poor little friend.
Marcel.
I'll wait for you at my house. Quarter past eight.
---
Letter to Maria Hahn
[Petit-Abbeville (Dieppe), August 1895]
Dear sister
I beg you earnestly to send me Baldassare as quickly as possible by registered post; I know that it will be more useful in Paris, but stop at sending it there, I can't wait a single hour (and I'll have to wait two days!) to read your comments. Cruel sister, not writing them in your letter, so that I could read them straight away. How is it that my own little one has had something in the distribution of prizes, and you leave me ignorant about the details. Why don't you come here where you are longed for, waited for, and you would be roomed and fed quite comfortably. I don't know if I can stay here, having some difficulty with my breathing here, but my hesitation is still not yet known so as to spare me from "advice" which however well meant is still no less irritating. I picture you incessantly at St. Germain, quite beautiful in the forest of which you are the true Diana (even though Mme the Marquise de St. Paul has usurped the name, if not the grace) you have her divine and impetuous locks, and in your eyes, and on your cheeks the joyful animation of the hunt. But your spirit which would be terrible were it not so obedient to your goodness, never kills anything because it does not pursue anybody and the poor creatures of the woods have no more to fear at your approach than all of us in whom you inspire nothing but terror, who on account of a well-bred imagination, is inseparable from the vision of beauty! - Madame Lemaire keeps herself busy making our lives comfortable and easy, with excellent meals, and as for music, since Reynaldo has no piano, it is the sea and the wind that have taken up the role. The first named extends good fellowship as far as to come and listen to them with pleasure. And papa being on his travels, it is the sea that is so good for doing everything and is such a curative, that takes care of my health, to a large extent at least and I find myself very well with this doctor who looks after me al fresco. Reynaldo is divine in mind, in goodness in indulgence.
I send you my respectful love my sister.
Marcel.
---
[October-November 1895]
My little Reynaldo
Thank you with all my heart for your pretty letter. It proves to me that there has been a misunderstanding between us and that you haven't understood mine. But what is the point of shedding light on all that at such a distance where I can't think about you without your absence making me feel everything that your presence is to me all the more and to make me rejoice when I see from an exquisite letter from Mademoiselle Suzette that you are enjoying yourself by prolonging your stay with the friends that we love so much. Too busy to write to them today so I entrust it to you to pass on to them my most respectful best wishes. I'm glad that Madame Lemaire is feeling better. The Calmann publishing house very much regrets that they haven't got what has already been finished to at least make a start on it. They will ask her for it on her return so Madame Lemaire won't need to give them the missing illustrations till the last minute. And I will ask for two days to reread it all. France would really like to have Madame Lemaire to dinner with her daughter and the two of us. Hervieu has just shown me a fresh proof of his kindness to me which touched me very much. All of yours are very well. I spent an hour yesterday with your sister Eliza and before that I had been to collect 150 francs from the Revue Hebdomadaire. "I would consider that handsome". I send my love to Madame Lemaire and Mademoiselle Suzette. You my little Reynaldo, in thanking you once again with all my heart for providing me by your letters a little of the charm of your conversation I shake your hand and send you all my affection. (I don't know if I told you about Gregh's projects. If not let me know, because I'll need to ask your advice.)
Marcel.
---
[1895?]
Dear little Reynaldo
I'm in the process, in a little piece for the book, of bedewing "the smile at the memory of all the tears of hope" and my sole consolation during this excursion that I pitilessly force myself to take on the leafless paths of my memory and on the paths equally denuded in advance by a cruel clairvoyance of my future - it was you. Why in telling me this so sad word do you cause to fade away the consoling companion whose hand I clasped so as not to die of sorrow during that October excursion that was "the future of our friendship". At Colonne I shall ask your forgiveness for this pathetic affectation.
M.P.
P.S. - I received a letter from Madame Lemaire full of nonsense - mixed with affection for us both. But I beg you, at Colonne, not a word, not a sign... perfectly.
---
3 o'clock [12 June 1896?]
Monsieur Reynaldo Hahn
6 rue du Cirque.
Please do not wake Monsieur Reynaldo if he is sleeping.
My little Reynaldo
Forgive me, as I feel like I can't sleep and that it will agitate me if I have to get up, I am changing the content of my letter to Madame de Brantes and I've said that we will go immediately after lunch. I am depriving you of a very fine lunch and am furious with myself (of course if you would prefer to dine there alone she would be delighted and you only need to add a word to the one I'm sending her that the porter has with him). But expect me a little after one o'clock. I'll come and pick you up to be there for about quarter past one, because not seeing you for lunch I would be very upset if you didn't come with me after lunch. We'll see a thousand charges set off for that (M. de Montesquiou). If you don't want to do that then ask the porter for my letter to Mme de Brantes and tear it up, then write her another from both of us. But the simplest thing is what I've put when I said we'll be coming after lunch.
Your little

Marcel.
If you don't want to have your lunch there on your own and prefer to come with me at one o'clock, you needn't write to Mme de Brantes, that's what I've put in my letter.
---
Our friendship no longer holds the right to remain silent here, it's not strong enough for that now. But in its previous life it established in me the duty not to let you commit such stupid, spiteful, cowardly acts without trying to awaken your conscience and to make you if not acknowledge - since your pride prevents you - then at least to be conscious, of what is in your best interest. When you told me you would stay for supper that wasn't the first proof of indifference you've shown me. But when, two hours later, after our talking amiably, after all the diversions of your musical entertainments, without any temper, coldly, you told me you would not come back with me, that's the first proof of malice you've given me. You have easily sacrificed, as on plenty of other occasions, the wish to give me pleasure, for your own pleasure which was to stay for supper. But you have sacrificed that to your pride which was to seem as though you did not to want to stay for supper. And since that was a harsh sacrifice, and since I was the cause of it, you have wanted me to pay dearly for it. I have to say you have fully succeeded. But through all this you behave like a madman. You tell me this evening that one day I will repent asking you everything. I am far from saying the same thing to you. I have no wish for you to repent anything, because I don't wish you to feel any pain, certainly not on account of me. But if I don't wish it, I am almost certain of it. Unfortunately, you don't understand then the struggles every day, every evening, where it is the simple fear of causing you pain that stops me. And you don't understand that, in spite of me, when this will be the image of a Reynaldo who for some time no longer ever fears giving me pain, even the evening, when we were leaving, when it will be this image that comes back again, I would no longer have any obstacle to oppose my desires and nothing now could stop me any more. You do not foresee the dreadful path that all this has taken for some time so that I feel how little I have become to you, not through vengeance, or rancour, you think that no, it isn't and I've no need to tell you so, but unconsciously, because my whole reason for acting disappears little by little. Full of remorse at so many unpleasant thoughts, at so many unpleasant and shameful plans I am far from saying I am better than you. But at least at the same time, when I was not far away from you and under the control of any suggestion whatsoever I have never hesitated between what could cause you pain and the opposite. And if something made me do it and was a genuine pleasure for you like Reviers, I never hesitated. As for the rest I don't regret anything I've done. I have come to wish that the desire to please me has come to nothing, was something you never had. Otherwise for such miseries to which you are more attached than you think to not have prevailed so often they must have had a dominion over you that I don't understand. All this is mere weakness, pride, and show of strength. Moreover I don't believe all that, I simply think that just as I love you a lot less, you no longer love me at all, and for that my dear little Reynaldo I can't blame you.
But none of that changes anything for the moment nor does it prevent me from saying that I like you very much all the same. Your little Marcel astonished despite everything to see at this point -
How little time there is to change everything
and it will go faster and faster. Reflect on all this my little Blaise and if this nourishes your poetic imagination and your musical genius, I will at least have the agreeable thought that I haven't been without uses to you.
Your little pony who after this bucking sadly returns all alone to the stable of which in the past you loved to call yourself the master.
Marcel.
---
Grand Hotel Cabourg,
[Tuesday 25 July 1911]
My Monsieur Bunibuls,
I think about you a great deal, but I haven't written to you because Cabourg has not agreed with me this year and I have had terrible asthma. Imagine, my Bunibuls, that every evening when the sun goes down and I haven't yet switched on the lights, I think about you shadly in my little bed and at that moment fat women appear all over the beach to play waltzes on hunting horns and cornets until nightfall. It is enough to make one want to throw oneself into the sea with unhappiness. I think that you really are going to be decorated and yet and yet, I can't tell you how much foolish but unutterable pleasure that gives me. Goodbye Genstil, too much to tell you and can't right now.
B.
Hector has furnished the apartment above his new shop which sounds like the last word in comfort and elegance. Recommend this apartment to any of your friends who are going to Versailles because I think it will be very nice there and they will be well looked after.
[Letter is accompanied by a drawing by Proust with the inscription:]
Sweet Country
Here are the Communards singing the splendid national anthem, that must be the Minister of War.
Forain.
---
Last updated: 17.10.15